We try our best promptly and appropriately for the benefit of our clients.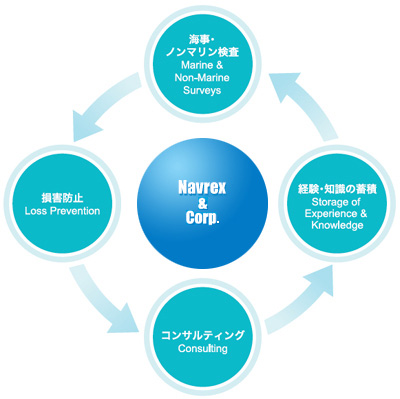 Marine Survey
We, as a third party, conduct surveys and appraisals technically and objectively.
Draft survey
Hatch survey
Ship value appraisal
Damage Survey
We conduct surveys concerning the condition, extent, cause, etc. of cargo damage and casualties during transportation both by sea and by land.
Survey concerning oil pollution damage
Survey concerning fishery claims
Survey concerning damaged cargo
Survey concerning damage to hull, machinery, etc.
Survey concerning damage to port facilities
Survey concerning container damage
Survey concerning drifting objects (such as logs) at sea
Survey concerning cargo damage occurred during transportation by land
Marine Inspection
We conduct general marine surveys.
Cargo stowage survey
Pre-loading survey
Survey concerning chartering
Condition survey concerning hull, machinery, etc
Survey concerning steel products
Survey concerning general average
Marine Consulting
Based on our knowledge and experience accumulated for many years, we can offer consultation service concerning various kinds of shipping affairs.
Consultation concerning loss prevention
Consultation concerning bunkering survey
Consultation in general concerning marine affairs
Radiation and Miscellaneous Surveys
We measure radiation with a scintillation survey meter "TCS-171B" both in sievert (Sv), which indicates the biological effects of the radiation on human beings, and in gray (Gy), which indicates the amount of the energy of the radiation absorbed in human beings / substances.
We measure radiation concerning objects to be related, please contact us.
Flow of Survey / Inspection
In NRX, a surveyor and an adjuster jointly handle a case so that we can cope with the communication with our client and the other parties concerned smoothly and promptly when the surveyor is out