Greeting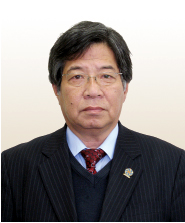 Since the foundation in 1994, NAVREX & Corp., as the specialist in marine surveys and inspections regarding accidents and casualties at sea, has provided high-quality and up-to-date services to the clients' satisfaction, through the long professional experience and the latest knowledge and expertise.

Our Motto
IMPROVEMENT:To keep seeking to improve our expertise and promote the ability of ourselves
QUICK-RESPONSE:To be always ready for quick-response, anytime, anywhere, and in whatever cases
SINCERITY:To win the public recognition as a leading company, and act with sincerity
STUDY:To study the background of various problems in the survey, and thereby produce the best results
Company Profile
Company Name
NAVREX & Corp.
Company Executive
Sadao Hosotani, President
Foundation
October 1994
Capital
JPY3,000,000.-
Employees
15 (As of the end of June 2015)
TEL
+81-(0)86-462-6262
FAX
+81-(0)86-462-5679
Address of Head Office
NRX HOUSE 3F, 2429-73 Ikusaka
Kurashiki city, Okayama, 710-0002
Japan
Group Companies
IBEX Marine Co., Ltd.
Reliable Marine Service (Qingdao) Ltd.
History
| | |
| --- | --- |
| 1994 | Capt. Sadao Hosotani, the Executive, spent the first decade of his career as an officer on board various cargo vessels plying all over the world. He then participated in plant construction projects as the officer in charge of materials transportation, and served as a superintendent / port captain, and experienced cargo damage survey & appraisement services. Then he established NAVREX & Corp. and commenced marine survey and appraisement services at Ikusaka 2429-52, Kurashiki-city, Okayama- pref. |
| 1995 | NAVREX & Corp. (company limited) was incorporated as a corporation. |
| 2001 | NRX was registered as trademark at the Japan Patent Office. |
| 2002 | NAVREX office was newly located at Ikusaka 2429-73, Kurashiki-city, Okayama-pref. |
| 2006 | The corporate name was changed into "NAVREX & Corp.". |
| 2010 | Reliable Marine Service (Qingdao) Ltd. was jointly established with Standard Marine Surveyors & Adjusters Co., Ltd. (located in Qingdao), in Qingdao-city, Shandong Province, China |
| 2011 | Accredited ISO9001:2008, and JIS Q 9001:2008. |
Alignment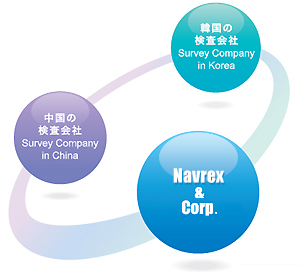 We are aligned with survey companies in China and Korea, thereby covering China, Korea and Japan.
Moreover, we have been in contact with leading survey companies in France, Singapore, India, Algeria, Egypt, Chili and the Netherlands.
Access